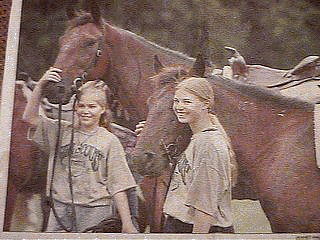 Girl Scouts perform Thursday morning at the Girl Scout Camp Wildwood on Sumter County Road 462 in Wildwood. Briana Donald, 16, right, of Lakeland, and Dana Morris, 11, of Leesburg stand with their horses.
Wild horses
Girl Scouts team up with adopted horses at Camp Wildwood.
By JOE CALLAHAN
WILDWOOD-Born free and wild in Nevada, five mustangs and two burros trained and broke in the Whyoming prison system found loving homes with the Heart of Florida Girl Scout Council last year as part of a federal pilot program.
On Thursday, young girls showed off the horses at Camp Wildwood to mark the beginning of an adopt-a-horse program between the U.S. Deptmartment of the Interior's Bureau of Land Management and Girl Scout councils around the Nation.
In 1973, land management officials launched an adopt-a-horse program in hopes of reducing the numer of wild horse roaming mainly in Nevada and Wyoming. Back then, officials estimated more than 160,000 wild horses were roaming free.
Today, about 40,000 -27,000 in Nevada- continue to roam as federal officials adopt out at least 6,000 each year mainly to private citizens.
Land management spokeswoman Shayne Banks said Camp Wildwood's 13-month pilot program was a huge success. Agency and scouting officials signed a Memorandum of Understanding on Thursday to facilitate offering the program to all councils nationwide.
"Teaming girl scouts with wild horses has proven to be a win-win situation," Banks said Wednesday. "The horses have new homes here they are being cared for by girls who absolutely love horses."
The partnership with the Girl Scout councils falls under the auspices of a project called "Linking Girls to the Land," which encourages girls to become more involved in natural resource issues and to explore careers related to wildlife and conservation.
"I was attending a workshop in Tampa in early 1997 when I struck up a conversation with a lady, who was a Girl Scout leader, and I told her about things we could offer them," said Banks, adding the main issue was the horse program. "The leader contacted me and it went from there. By September (1997)they had the horses."
Banks said numerous dignitaries - including the Girl Scout's National Executive Director Mary Johnson Evans of New York and the Girl Scout's Eastern States Assistant Director Gwen Mason of Virginia- were on hand for Thursday's ceremony.
Judy Welage, national Girl Scout spokeswoman, said organization officials are excited about the prospects of all 319 councils nationwide adopting horsers."
"It's a great program," Welage said. "We just hope all the councils across the country will take advantage of this."